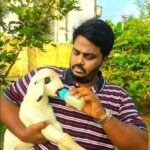 Garden of life is laid on the foundation of the founder brain child('Learn to live ,Live to grow,Grow to change')He believes in the tag line "Whatever you give; comes backs to you in thousand folds". He hails from a rural township in the state of Andhra Pradesh, India. Did his schooling and then graduated in Management, he pursued further studies and successfully completed MBA and also completed PHD. For more than 17 years, he toiled in various corporate companies/firms, in different roles and capacities. He was tagged as a 'Go Getter' at his work places, amongst all circles. This alone throws light on his never say die attitude. While having a successful career, he decided to spend his accumulated knowledge and experience for the betterment of the society and country. Payback time, and the first priority for him was none else but, Rural and Tribal India, stemming from his childhood memories.
Ranjit believes in channelizing the Youth and their energies for development of Tribal and Rural Children of India. He travels to remote parts of rural and tribal regions of India to understand the specific areas which need assistance. He is an efficient administrator and has a knack of building perfect teams. Role creation and assigning them to suitable and chosen individuals is his forte.
He believes that the rural Youth in India, are hugely untapped, and their potential is being wasted due to lack of opportunities. He believes that effective basic counselling and motivation will make them do marvels. He is an excellent motivator. His dream project is to route the multinationals, to identify the hidden potential and talent of rural and tribal India, and thereby providing them, a wider pool, at the same time, the Youth in these areas with more opportunities.
At an early age, he was witness to the hardships faced by the poor and weaker sections of the erstwhile states. He understands the need of extra efforts by the society for the upliftment of the downtrodden. He believes, education alone can make them realize their rights and only then can they tread on the roads of prosperity. So he emphasizes on building newer and strengthening the existing infrastructure for education in the rural areas. At the same time, realizes the need of proper livelihood opportunities for the families, in order to successfully implement the much needed education drives. He puts in use his vast and rich experience gained during his 17 years of serving in various corporate companies. His dream project is to design a unique "Sustainable Livelihood Program" for every village, and implement phase wise, based on the available skills and resources.